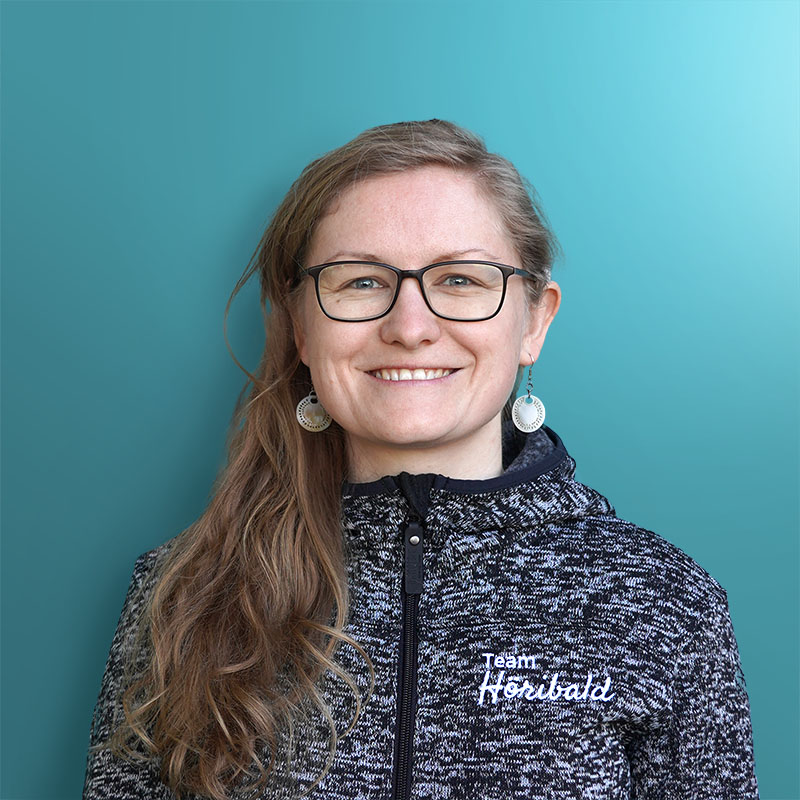 I have an implant on one side and normal hearing on the other.

The interaction between the implant and normal hearing is super.

Listening is less tiring and stressful.

A positive attitude and a lot of patience make the process easier.
Veronika
My name is Veronika, I live in Graz, but I am often also in Upper Austria, so I am open to enquiries from there, too. I have an implant on the left side myself, and on the right side I have normal hearing with tinnitus. I was born with normal hearing and suddenly went deaf in my left ear at three and a half. At the time it was assumed that my auditory nerve was damaged and so no hearing technological provision would be possible. At the age of twenty I went looking for possible hearing solutions. In that context it was determined at an examination that my auditory nerve was intact after all and that I qualified for a CI. Since having the implant, I wouldn't be without my CI. The decision to have an implant is a very personal one, but one I would do again any time.
Being deaf on one side made many things in my life more difficult; directional hearing was not possible, I had to keep turning my head to be able to hear better. That has changed since the CI and it is now significantly better. I can manage much better in noisy environments, listening is less tiring in those situations. New situations are less stressful, I hardly need to lip read any more. With the CI, I can enjoy the full range of sounds when playing music.
I would advise anyone affected to approach the issue positively and have a lot of patience. Getting a CI is the beginning of a hearing journey, it needs time, and like all real journeys, it will sometimes be challenging but at the same time it brings with it lots of wonderful things to discover.
Mein wichtigster Tipp
You are not alone, there is a lot of great support!
Veronika kontaktieren
Do you have any specific questions that I can answer with my experience and knowledge? Then get in touch with me, I look forward to getting to know you!